Week walking with snow shoes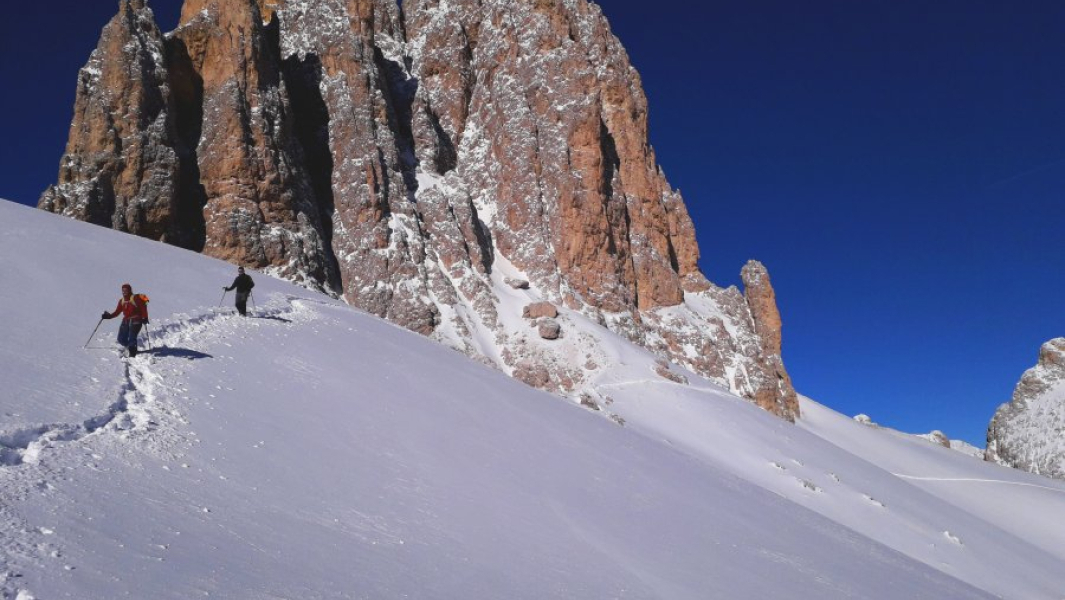 Walking with snow shoes — living a winter fable
With the arrival of the first snow flakes, the landscape suddenly changes appearance: fields are covered in bizarre frost crystals, snow covered trees, and the Dolomite summits, bright and shining gigantic rocks rise up into the deep blue winter sky.
The Dolomites and the Valley Sarentino are particularly fascinating on account of this new way of moving in the snow. Here you will find almost all that the heart of a passionate snow shoe walker could desire, from easy rolling walks to steeper and more demanding itineraries.
In first place we find not only the daily pleasures which our trips offer but just as important we learn to be aware of danger and how to proceed on open terrain.
Other focal points of the week are the correct behaviour in case of avalanches, orienting oneself and learning to safely use a transceiver (electronic research for avalanche victims). For this week we have chosen Catinaccio, Latemar and the Valley Sarentino. Both territories are particularly suitable for snow shoes.
In the Catinaccio area as well as Latemar the backup base will be a comfortable hotel in Nova Levante; in the Valley Sarentino a hotel in Valdurna.
Touring area Catinaccio / Latemar
| | |
| --- | --- |
| Area: | Catinaccio, Latemar |
| Accommodation: | Boarding house at Nova Levante |
| Difficulty: | Depending on requests and ability |
| Itineraries offered: | Latemar labyrinth, Passo Vaiolon, Haniker plain, Vaiolet valley, Passo Cigolade |
| Price: | 650€ |
Touring area Valley Sarentino
| | |
| --- | --- |
| Area: | Valley Sarentino |
| Accommodation: | Hotel in Valdurna |
| Difficulty: | Demanding; 6 - 8 hours of walking per day |
| Itineraries offered: | Forcella Tramin, Forcella Valdurna, Punta S. Cassiano, Forcella Vallaga |
| Price: | 750€ |
Day trips available!
Min. number partecipants: 4 persons.
Price: € 40 — 60.- including equipment
| | |
| --- | --- |
| Requisiti | Buona preparazione fisica, passione per lo sport |
| Attrezzatura | A richiesta mettiamo a disposizione gratuitamente l'attrezzatura tecnica |
| Numero partecipanti | 6 - 10 persone per guida |
| Prestazione | 5x guida, 6x mezza pensione, trasferimento, attrezzatura |
|   |   |